We are a little over 24 hours away from #RMNBParty6. The following GIFs shall communicate my excitement.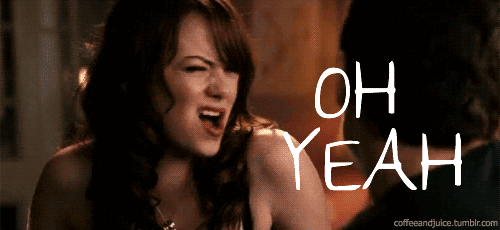 Now that that's out of the way, I have some important stuff to tell you.
RFD is located at 810 7th St NW, Washington, DC 20001. Here's a link to Google Maps. Here's a link to Bing Maps if you're weird.
RFD is like one block from Verizon Center. If you take the metro to Chinatown, you'll be 99% of the way there.
We'll have our own private room after 8 PM, which will be awesome.
If you're ordering food (tater tots!), be aware that ticket times could get backed up if everyone orders at once.
The game starts at 10:30 and should go until about 1 am.
Most of the parking decks around Chinatown close around 1 am. If you're driving, take note of closing time.
The metro also shuts down at 3 am. Plan accordingly!
The RFD kitchen will close at 1 am. The whole bar closes at 3 am. If you're still partying at 3 am, I don't even know, man.

The party is 21 and up only. Sorry to our younger readers. We'll hang this summer– promise!

You don't have to RSVP for the Facebook event. We just made that to make it easier to tell your friends.
We, the RMNB crew, will be getting dinner somewhere in the neighborhood before the party. It'll be a casual thing, but let us know if you want to hang.
At RMNB Party 1 (pre-hashtag), we invented a new shot (I can't remember it now; weird how that works.) We should invent a new shot at #RMNBParty6 as well. Inspired by Nate Ewell and your boy Dan Steinberg, the "Perimeter Shot" seems to be the likely name. Your suggestions are welcome.
If you're following along on social media– like a dweeb– you can find all the action at #RMNBParty6.
Chris Gordon will be taking photos on and off through the night. Track him down and make funny faces. I (Peter) will be shooting some video too.
We'll have our regularly scheduled game recap up too, but it may be awful …er than usual.
Ian likes to hug. Peter does not.
One final note, and this is good advice both for the party and life:
See you at the party!